Development of Ports
Navigating in the New Era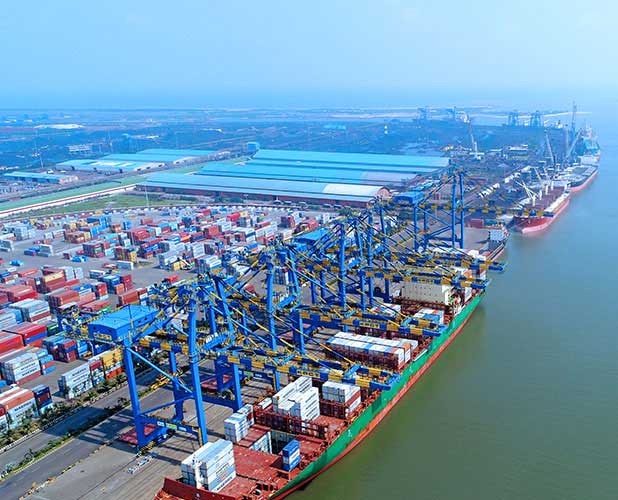 Since more than 90% of international cargo moves by sea, ports - being the gateways to the hinterland - are critical for the efficient supply chain of any nation. New-age carriers call on ports with deep draft, adequate quay length and efficient cranes.
With decades of rich experience, NEC has developed the expertise to build such world-class facilities with vital infrastructure. Innovations such as "KOLOS," a patented technology comprising concrete armour blocks with the highest KD value, reaffirm the company's authority in the sector. In fact, the company is regarded as the 'pioneer' in setting up ports on a turnkey basis, with Krishnapatnam Port being the perfect example.
With other mega port projects at Astaranga and Machilipatnam, which are envisaged to be among the country's largest privately owned and managed ports, NEC is now at the cusp of maritime glory, charting its course to unprecedented success and growth.
Astaranga Port
The proposed port is located at Astaranga on the coast of Orissa. The lagoon type port is poised to connect the mineral rich hinterland to the world. The wave climate on this coast is extreme with frequent cyclones. Also, the coast is subjected to large amount of littoral drift. NEC's patented breakwater technology 'KOLOS', will be implemented effectively to take care of these conditions while building the port. Astaranga Port is all set to spur industrial growth in the region.
Machilipatnam Port
Machilipatnam is a small town located on the east coast of India. Subsoil at the site of the port consists of very soft marine clay for nearly 18 metres. NEC developed the design of a structural breakwater, which is a first in the world. Layout of the breakwaters and berths have been made to obtain absolute tranquillity in the port waters. This port will be the gateway for most of central India as it will be the preferred gateway for containers. The port will have the advantage of extensive back up area for container stacking. Machilipatnam will soon be one of the most preferred container ports on the east coast.